Few things are as satisfying as snacking on a crisp, juicy, sweet pepper right out of the garden. For some folks, sweet peppers are lucky to make it to the kitchen. Whether you're growing them for fresh eating, roasting, pickling, or stuffing, if you want to grow the sweetest varieties, below are several sweet varieties of peppers listed with their actual sweetness as measured in field trials.
The sweetness of peppers is measured in Brix, which is the sugar concentration of a solution, including the juices from fruits and vegetables. For example, table grapes typically have Brix values of 15-20%. Your average ripe bell pepper has a Brix content of 6%, but all the below varieties had Brix values between 8% and 11% in trials by the Royal Horticultural Society (RHS) and the Canadian Organic Vegetable Improvement (CANOVI) project [1][2][3]. All varieties have links to places where you can find seeds. Near the bottom of this post are even more suggestions of other delicious sweet pepper varieties.
Note to international readers: Many of the US-based seed companies mentioned in this article also ship internationally.
| Pepper Variety | Brix (Sugar Content) | Additional Notes |
| --- | --- | --- |
| Peacework | 8% | Hybrid; large, red bell pepper |
| Corno di Toro Rosso/Red | 8% | Open-pollinated; Italian sweet pepper; also has orange and yellow varieties |
| Beja | 8.5% | Hybrid; wide, pointy red pepper |
| Mohawk | 9% | Hybrid; compact dwarf plant with small orange bell peppers |
| Flavorburst | 9% | Hybrid; large, yellow bell pepper |
| Whitney | 10% | Hybrid; wide, pointy pepper; color changes from cream to red when ripe |
| Hamik | 11% | Hybrid; small, productive, orange snacking pepper |
Sweetest Pepper Varieties
Peacework
One of the tastiest bell pepper varieties with great production
Days to Maturity: 80 days
Brix (sugar content): 8%
Fruit Description: Large, red, blocky bell pepper shape
Open Pollinated? Yes
Get seeds: Fedco Seeds (US), Northern Seeds (Canada)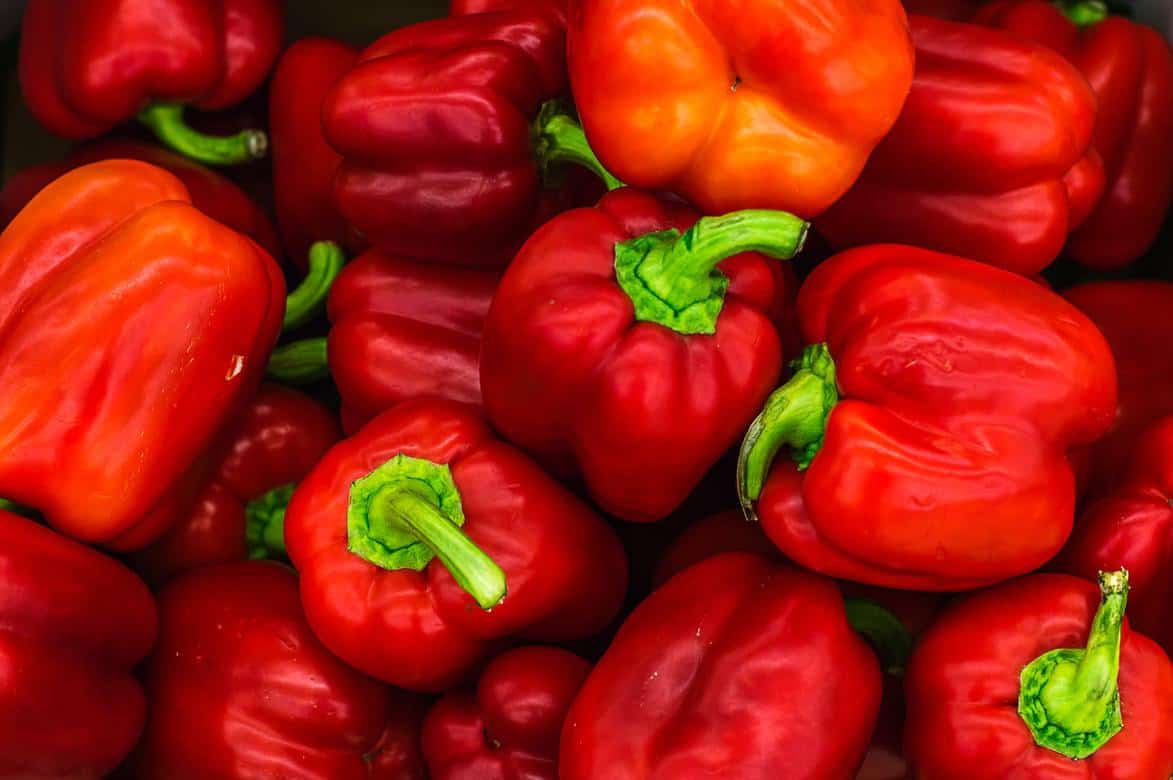 Most bell pepper varieties will give you nice, crisp, sweet fruit, but Peacework is one of the sweetest varieties you can grow. This open pollinated variety was bred for production, fruit quality, and of course sweetness. This is a stable variety but fruit size and shape are not always consistent. What is consistent is the sweet, juicy, crisp flesh in every fruit.
Peacework wasn't the sweetest pepper in the CANOVI trial, but it was rated one of the best in flavor, even better than Early Red Sweet and Italian Red Heart which were even sweeter.
Corno di Toro Rosso
A prolific Italian heirloom with superb flavor and a touch of heat
Days to Maturity: 75 to 80 days
Brix (sugar content): 8%
Fruit Description: Large, red cone-shaped pepper with medium-thick walls
Open Pollinated? Yes
Get seeds: Eden Brothers (US), Grow Italian (US), Burpee (US), Kitchen Garden Seeds (US), High Mowing Organic Seeds (US), Wildrose Heritage Seed Company (Canada), Weston Seeds (Canada)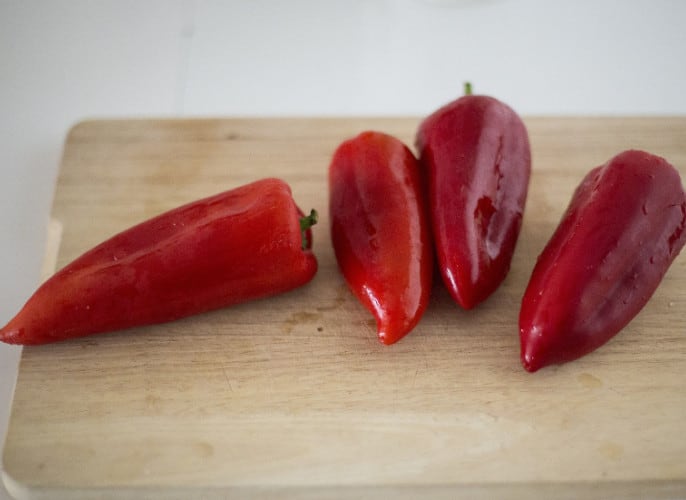 The Corno di Toro pepper is a massive, Italian bull's horn pepper. This is a large family of peppers (including some hybrids you may have heard of like the Carmen pepper), but the regular Corno di Toro Rosso (red) variety is the classic heirloom. It's sometimes marketed as just Corno di Toro or Corno di Toro Red.
This pepper is extremely prolific, producing pounds of peppers over a season; the RHS trial found the standard open-pollinated variety produced over 6 lbs of succulent red peppers. This one does sometimes have some heat, but it's often mild. The peppers themselves get up to 8 inches long and have sweet, medium-thick walls, sometimes getting as thick as some bell peppers.
Also consider getting the Corno di Toro Giallo (yellow) variety, which can sometimes be even sweeter.
Beja
A superbly sweet Eastern European pepper that's perfect raw or roasted
Days to Maturity: 75 to 85 days
Brix (sugar content): 8.5%
Fruit Description: Red, medium-sized cone shape with medium-thick walls
Open Pollinated? No (Hybrid)
Get seeds: Garden Seeds Market (UK*), Happy Green Shop (UK*), Sea Spring Seeds (UK), Dave's Seed (Australia)
* also ships internationally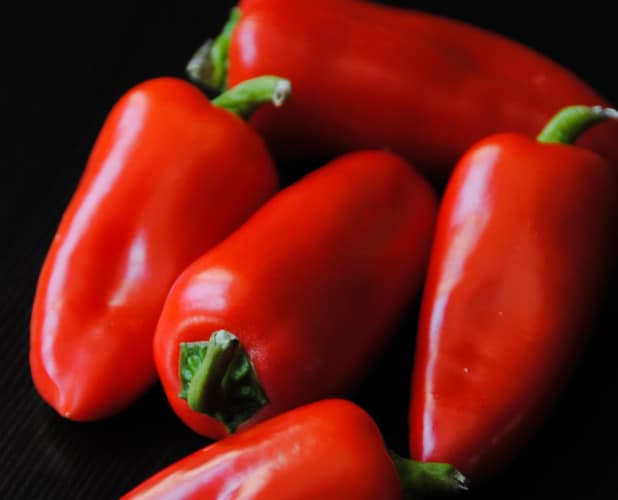 Beja was developed for market production. The result is a pepper with excellent flavor, high levels of sweetness, and an abundance of relatively uniform peppers. Beja doesn't get much taller than 2 to 3 feet, yet its prolific yields can sometimes cause plants to fall over, requiring staking.
This pepper is ideal for gardeners looking for a paprika-type pepper with extra flavor and production. It also makes for an excellent roasting pepper, with crunchy walls that are not too thick.
Mohawk
Award-winning dwarf pepper with elongated bell-type fruits, very productive and sweet
Days to Maturity: 75 days
Brix (sugar content): 9%
Fruit Description: Orange, medium-sized, stretched bell shape, medium-thick walls
Open Pollinated? No (Hybrid)
Get seeds: Pinetree Garden Seeds (US), Ball Seed (US), Atlantic Pepper Seeds (Canada), Suttons (UK), Thompson & Morgan (UK), Kings Seeds (UK)
For those who want production in less space, Mohawk is an extremely sweet pepper that grows less than 2 feet tall. Perfect for growing on a patio, deck, or balcony, or in-ground in that tight corner of the garden. This pepper is fairly ornamental for a sweet bell, with gorgeous, glossy green leaves and bright orange fruits.
Mohawk's productivity and flavor in a compact growth habit earned it the RHS Award of Garden Merit for sweet peppers.
Flavorburst
Medium-sized bell peppers with high sweetness and award-winning citrus flavor
Days to Maturity: 87 days
Brix (sugar content): 9%
Fruit Description: Yellow, glossy, medium-sized, blocky bell peppers
Open Pollinated? No (Hybrid)
Get seeds: Johnny's Selected Seeds (US), Pinetree Garden Seeds (US), High Mowing Organic Seeds (US), Fedco Seeds (US), Pepper Joe (US), Park Seed (US), Stokes Seeds (US)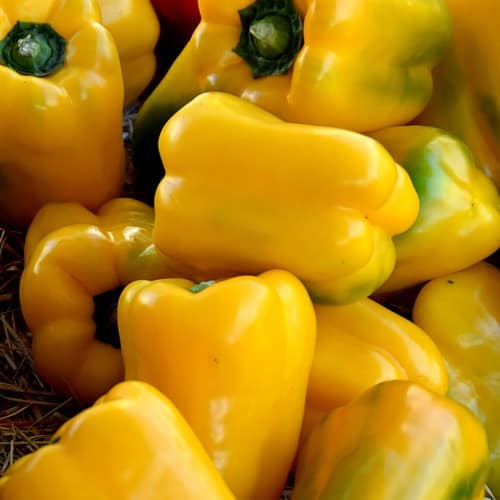 The aptly named Flavorburst is modest in size but gargantuan in flavor. Starting off lime green, these peppers reach their peak flavor and sweetness once they've ripened to a bright yellow. Ripe fruits will have that familiar pepper flavor, but with an added citrus kick that is best appreciated when raw. For this reason, Flavorburst was selected as a Burpee taste test winner.
In the reference trial, Flavorburst had a perfect average flavor score, beating other even sweeter peppers. And Flavorburst is already a very sweet variety.
Plants are compact, sturdy, and productive, but may require staking during heavy fruit sets.
Whitney
Multicolored, thick-walled sweet pepper that may not make it to the kitchen after you pick it
Days to Maturity: 75 days
Brix (sugar content): 10%
Fruit Description: Cone-shaped fruit with thick walls, transitions from cream to orange to red when ripening
Open Pollinated? No (Hybrid)
Get seeds: Totally Tomato (US), Reimer Seeds (US), HPS Seeds (US)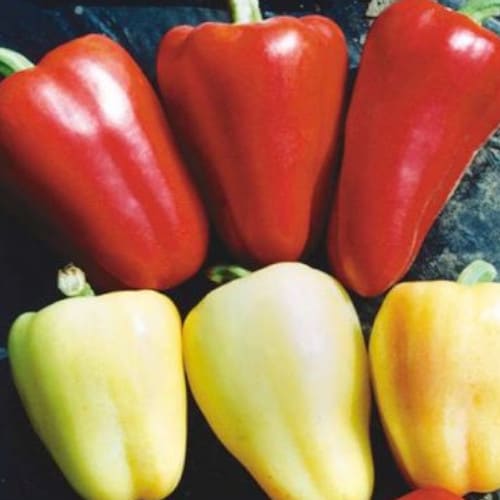 In the RHS sweet pepper trials, Whitney was one of the few varieties that attained a sugar content of 10%. For reference, having an 8% Brix level is considered good for bell peppers. 10% puts it on par with an average cob of sweet corn or an exceptionally sweet harvest of green beans.
This is a very productive variety that also produces peppers earlier than other large sweet peppers. Fruit size varies from 3 to 8 oz, reaching up to 5 inches long, and are considered a Hungarian-type pepper. Perfect for eating raw, roasting, stuffing, salads, and more.
Whitney is a bit unique in this list as the color of the fruits changes throughout the ripening process, turning cream-colored, then yellow through orange, and then finally red. Whitney tastes great at any stage, but for maximum sweetness, harvest fully ripe red peppers.
Hamik
Small, orange snacking pepper with saccharine sweetness
Days to Maturity: 73 days
Brix (sugar content): 11%
Fruit Description: Orange, mini bell-shaped fruits with medium-thick walls and slightly pointy bottoms
Open Pollinated? No (Hybrid)
Get seeds: Harris Seeds (US), Sea Spring Seeds (UK)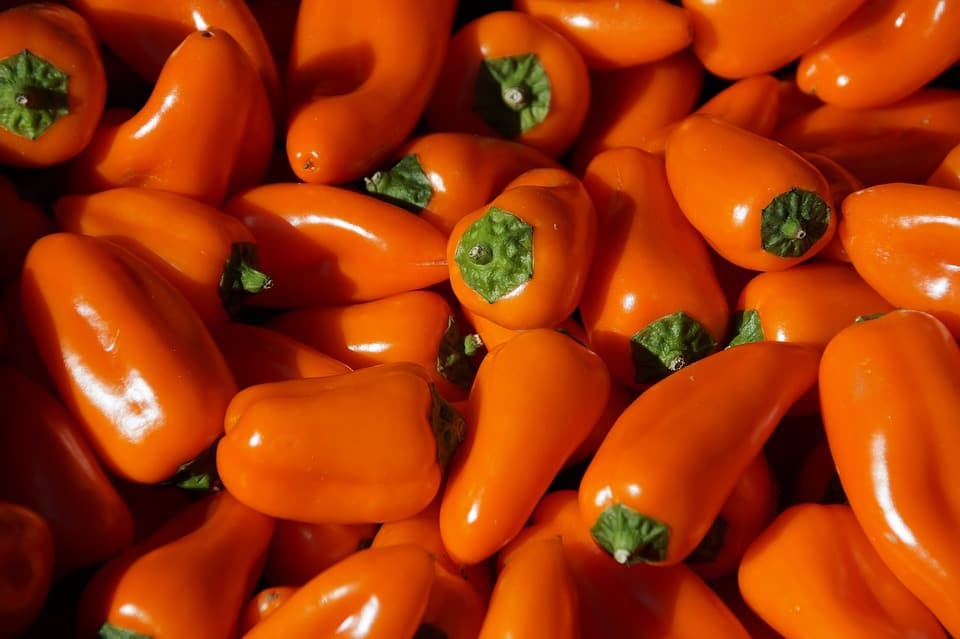 This was the sweetest pepper in both reference trials that is also available for sale to the public as of this writing. It's difficult to find many places selling seeds, and it appears there are both open pollinated and hybrid versions of this variety. But this pepper's sugar content clocked in at 11%, making it almost as sweet as a good quality honeydew melon (12%).
Hamik is essentially a snacking lunchbox pepper on steroids. It's a heavy yielder, its fruits are extremely sweet (for a pepper), and it's almost seedless, which means you can eat the whole fruit without much bitterness from the seeds.
Other Highly Recommended Sweet Pepper Varieties
Some of the above varieties are not easy to find, but there are plenty of other very sweet, sweet pepper varieties you can grow. Below are some varieties with quick links to shops offering seeds.
Recommended Sweet-and-Hot Pepper Varieties
Hot peppers also get sweeter as they ripen, and some varieties are known for having a lot of sweetness along with that spicy kick. Below are some pepper varieties that are hot (some extremely hot) but still have a nice sweet taste when fully ripe (unripe hot peppers will have little to no sweetness). Heat values (Scoville Heat Units) are included. As a reference, jalapenos are between 2,500 and 8,000 SHU, and habaneros are between 100,000 and 350,000 SHU.
Lemon/Orange/Pumpkin Spice Jalapeno (2,500 to 8,000 SHU)

Monkeyface Pepper (2,500 to 5,000 SHU)

**

Hot Portugal

(5,000 to 30,000 SHU)

** Brazilian Starfish (5,000 to 30,000 SHU)

** Sugar Rush Peach (50,000 to 100,000 SHU)

** Scotch Bonnet (100,000 to 350,000 SHU)

Aji Mango (30,000 to 50,000 SHU)

Red/Yellow Biquinho Pepper (500 to 1,000 SHU)
** top picks for sweetness
How Do I Make My Peppers Sweeter?
In addition to choosing naturally sweeter pepper varieties, you should give your pepper plants enough nutrients to grow and mature ripe, sweet fruits. Plant your peppers in rich, well-draining soil, amended with lots of organic matter like compost. If you want to give your peppers an extra boost, you can apply a balanced fertilizer until your pepper plants start flowering and fruiting, then switch to a high-phoshorus fertilizer; ones labeled "bloom" or "fruit" formula work. And tomato fertilizers work great on peppers, too.
Always make sure you pick peppers when they are fully ripe in order to eat them at their sweetest. Be mindful of the variety you're growing, since some peppers will change to multiple colors or change to a deeper shade when fully ripe. For instance, some orange pepper varieties partially ripen to a bright, ripe orange, but after a few more days on the plant, turn deeper orange as they actually fully ripen.
But one tip (which also works for tomatoes) is to pick your peppers on a hot and dry day, before you water your plants. The reason for this is to slightly reduce the moisture content of your peppers – not to the point where your peppers are dehydrated or soft, but enough to concentrate the sugars a little more.
Sources
Brix content reference guide (courtesy of Functional Fertiliser Ltd.):

https://functionalfertiliser.co.nz/brix-table/

RHS Sweet Pepper Trials:

http://apps.rhs.org.uk/planttrials/TrialReports/Pepper%20sweet%202016.pdf

[PDF]

CANOVI Bell Pepper Variety Trial:

https://bcfoodweb.ca/sites/default/files/res_files/CANOVI_bell_pepper_report_2018.pdf

[PDF]